Nino Menzel receives poster award at the DGG annual meeting 2023 in Bremen
Posted on 2023/03/21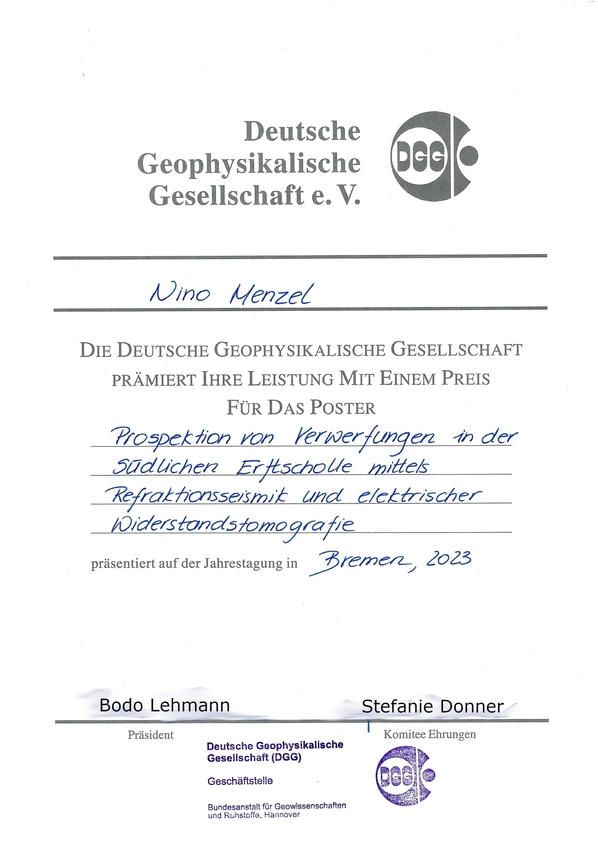 The Annual Meeting of the German Geophysical Society is hosted alternately by different universities and institutions throughout Germany. After two years in an online format, the conference was hosted by University of Bremen in cooperation with the Alfred Wegener Institute as well as the Fraunhofer IWES and took place March 6-9, 2023.
In addition to the general geophysical topics, the 2023 meeting included key lectures on "Renewable Energies", "Geophysics for the Exploration of the Rapidly Changing Polar Regions" and "(Marine) Natural Disasters" to demonstrate the increasing importance of geophysics for the society. At the annual meetings, student prizes are awarded for the best oral presentations as well as the best posters. The honors are awarded on the basis of evaluations by other conference attendees.
This year's poster prize was awarded to Nino Menzel for his conference contribution on the subject of geophysical near-surface exploration for tectonic and hydrologic applications in the Lower Rhine Basin. In his studies, he was not only able to refine the positions of several small-scale fault structures using geoelectric and seismic measurements, but also able to evaluate the influence of those structures on local groundwater flow. This subject is of high importance with regards to the rerise of groundwater as a consequence of the coal phase-out in the Lower Rhine Basin, which may trigger a cascade of chemical reactions in the resaturated aquifers.
The work resulted from Nino's M.Sc. thesis, which was supervised by Norbert Klitzsch (CG3, RWTH), Michael Altenbockum (Altenbockum & Partner, Geologen) and Florian Wagner. The abstract (in German) can be found here.
Back to news overview